352-279-1816
www.facebook.com/SmoothSaleing
Follow us @ facebook.com/SmoothSaleing - Twitter @Smoothsales - Instagram -smoothestatesales
Serving Florida Since 2008- Celebrating our 10th Anniversary!
Estate Sale for him and her
Wednesday June 20 & Thursday June 21st!
From: 8:30-2:00
Estate Sales by Smooth Sale-ing!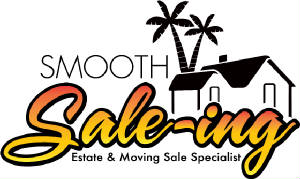 352-279-1816
For all you Liquidation needs!
Having an Estate, Moving or Liquidation Sale can be very overwhelming!
We start by meeting with you to determine what we can do to make your sale a huge success!
At Smooth Sale-ing we take charge from the beginning & follow thru until the end.
We do all advertising, pricing & organizing of your unwanted items!
Our customers can sit back, relax and know we're on the job!